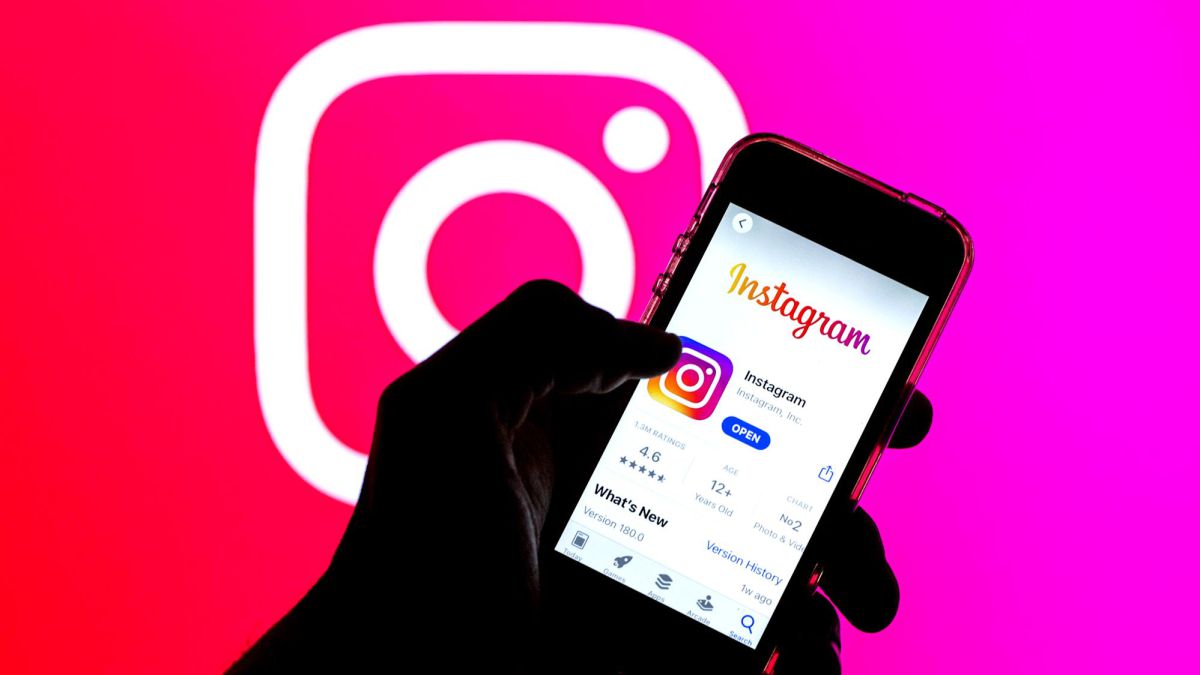 How to Optimize Instagram Profile: Ultimate Guide
How do I optimize my Instagram profile? This is a question that many people ask themselves when they are on social media platforms. If you want to attract more followers, have an engaging profile, and make sure your posts get seen by as many people as possible, then you should read this blog post! Here we will discuss how to optimize your Instagram account so that it becomes a thriving community with tons of engagement.
How to Optimize your Instagram bio

We need to make the Instagram bio as interesting to read as possible. It is a small space, but it can make all the difference in attracting people who are interested in what you post! Keep your bio short and sweet by adding relevant information that will pique someone's interest. You should also include hashtags like #blogger or #fashionista because they may be looking for certain accounts which fit those labels.
- Include relevant and interesting information in your bio
- Use hashtags to find related accounts
- Keep the bio short and sweet!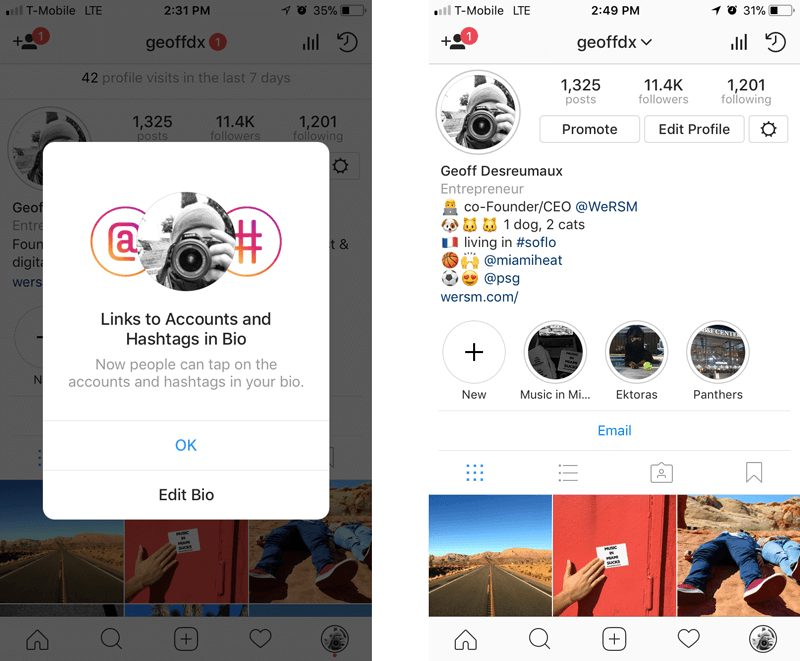 Use the Name Field to Add Your Targeted Keywords
Include your relevant keywords in the name of the account so that when users search for those keywords they find your profile. For example, if we are posting about fashion then you should add "Fashionista" or "Fashion Expert" to the name of the account.
- Use keywords that will help users search for their favorite account
Adding Targeted keywords instead of your name will drive more followers to your profile. Because your users will be able to find you easily on Instagram.
For example, I kept my name as "SEO Expert" then people searching for "SEO" will find my account. And it's very useful to gain followers and engagement.
So when we are keeping the name it's important to see what our target users are looking for and keep the relevant name for SEO keyword optimization.
Add a Call-To-Action for the Link in Your Instagram Bio

Now it's time to add a call-to-action for your link.
This is an important part because we are directing the users to our site and it's important to make it clearly visible in the last line on Instagram bio.
For example, if we have published the latest blog and want to direct them towards the link in our Instagram bio, we need to add "Check out my latest blog post Link in Bio".
Or we are running an offer we can add details and direct them to the link of a sales page with "Check out my 50% latest offer Link in Bio".
A call-to-action is the last sentence on your bio.
This can be a link to an article, profile, or product page and it will help you gain establish our goal towards what we want our followers to do.
Add Your Contact Details to Your Instagram Bio

We can mention our email, phone number, or physical location details that we want to show up on the bio.
This way people can find our profile and connect to us easily by using the information we provide.
For example, we can add these fields in our Instagram business profile, "Email: Details | Phone Number: +21-3333333333" or "Location: London,UK".
The local users will be able to understand if our business is in their city and will be able to connect with us easily.
The users who do not have our information can also use the "Contact" link on the account settings page to contact you.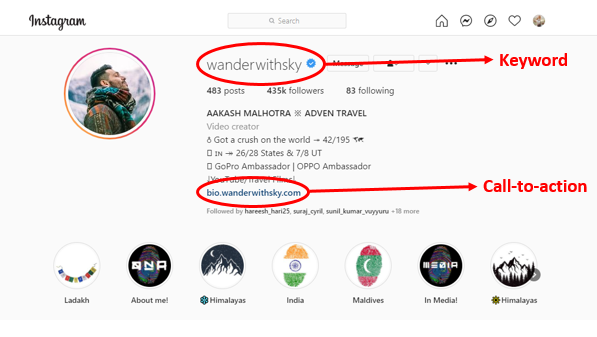 Tag Related Accounts & Share Your Brand's Hashtag in Your Instagram Bio

We can also add the related accounts that we want to tag in our bio.
This way we will be able to add the founder's account or sister accounts related to our business in our bio.
Or at times if we want to give a shout-out to our favorite influencer, we can add their account in our bio.
We can also include the brand's hashtag in our bio to make it easier for people to spot we are of expertise. Remember adding hashtags in bro doesn't help when users are searching for it. our bios for Instagram, and this allows us to add a bit of personalization.
Optimize Your Instagram Posts for Maximum Impact

We need to optimize our Instagram posts for maximum impact.
This means that we have to take a moment before posting and think about what type of mood or experience do we want people to walk away with from the post?
Do we want them excited, sad, enlightened, entertained, etc.?
Then after deciding on this action plan, we frame the post accordingly.
One of the most effective ways to optimize Instagram posts for maximum impact is through photos, videos, and captions.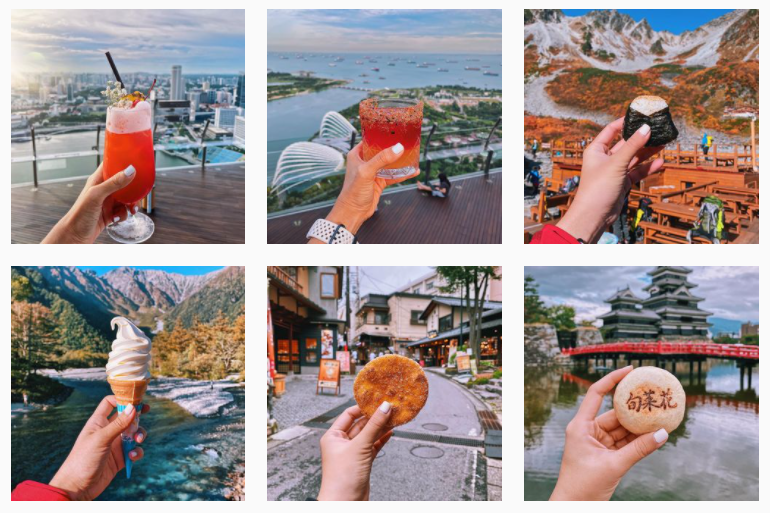 Write Descriptive Captions

A good caption should be descriptive, but not too wordy. It should be something short and sweet that adds to the visuals without giving everything away or being a spoiler for what's happening in the photo/video. Good captions are also usually written with humor - this is a great way of injecting some personality into an account!
You can use your creativity to write a caption that will engage the reader and get them to take an action.
A perfect example is how Dove has used captions in their advertisements to not only sell products but also promote self-love
Add Emojis In Instagram Caption

Emojis are a popular way to add some pizzazz and personality to your captions. Whether you're using an emoji as a noun, verb, adjective or adverb - emojis can help you express yourself in your caption!
Emojis will allow you to add emotion, create a relatable story or highlight certain words in your captions.
You can use an emoji as a noun when you refer to the person being pictured (person with red hair)
Emojis will allow you to create action verbs by picturing someone using their hands and body than adding the appropriate emoji - "She used her hands and danced for hours".
This is how I feel about coffee: 💁🏼‍♀️ ➡️I need my morning cup o' joe! ☕💧⬇︎☕❣️♥️ #coffeelove
A good way of using emojis in your caption would be to add them in a sentence for emphasis. Let's say you wanted to emphasize how much you love your new shoes:
"I had been looking and longing for these shoes all summer, they're the perfect color!" 💯🔥❣️👟😍♥️ #satisfactionpriceless
Emoji will allow me to express myself more with my photos on Instagram! You should give it a try too :)
Add Hashtags In Instagram Caption

Adding Hashtags in your Instagram caption is a great way to bring in more likes and followers.
To do this, simply type the hashtag name in brackets with no spaces before adding it on its own line so that it isn't cut off at the end of the sentence: "(hashtag #love)"
The longest hashtags are usually just one word - "happiness" or "#instagood". You can also use acronyms like these "-mrbts" for "my ride be taking shape!".
Adding the right hashtag to your post will increase the chances of it being seen by other people who are following this hashtag.
You can also use hashtags to engage in conversations with others on Instagram: for example, if I wanted to ask a question about happiness or what makes you happy then I could post "What's your favorite #happiness? Mine is ________".
But we need to not overuse hashtags. It's best to use around 10 to 15 hashtags per post but again, it all depends on the type of audience you're aiming for.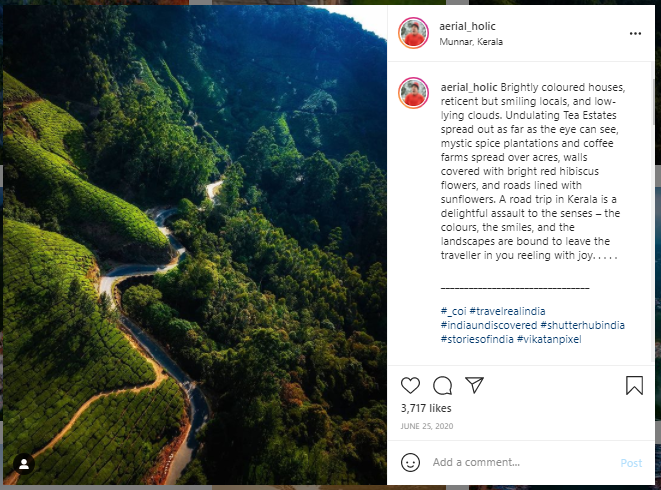 Use Call to Action In Instagram Caption

Some people might not know this but you can add a call to action in your Instagram caption. You'll want to include it after the last sentence and before any hashtags that are relevant to your post.
By adding a call to action, you will have more engagement with users who see your content because they feel like there is an incentive for them if they complete the job of liking or following you on Instagram as well as tapping on links that are included within the caption.
Below are some examples of how you could use calls to actions in an Instagram caption:
"Tag someone who needs this!" "Share what makes YOU happy?" "Leave me a comment below!" These three sentences would be great at inciting emotions and will give followers a feeling that they are not only being entertained but also have the opportunity to be engaged in your account.
I have shared an image of a product we can direct them towards the link included in the bio and encourage them to purchase it. This will not only show you as a brand but also help your business grow through social media.
Keeping an open mind with what people want is always helpful- consumers may be interested in something that we think they wouldn't, so don't limit yourself by thinking the call to action will be too greedy.
Make Caption in Correct Structure

And make sure captions aren't just numbers or bullet points or emojis make it in the right structure so that it is inflow.
We should not always use captions as they act as another way of telling someone why they should follow us. But also we can also give them information about what interests them most by stating "I make travel videos," for example, so when they search their hashtag and we can provide see our captions they will follow us.
Don't be afraid to make a call-to-action and don't just think your caption is about numbers or bullet points or emoji, as it should have some information in the right format so that people are more attracted to following us.
We may not always use them but if we do then there must be an inflow of content otherwise it can seem like we're lazy and uninterested at best. And also this means that when someone searches for their hashtag on Instagram and sees our content with the correct structure they'll want to follow us because it's something interesting.
Think Hashtags are Like Keywords

When people search for a hashtag they will see our content that is relevant to the keywords. When we use hashtags, it should be in order and with some information which means there must be more than one photo or video on
The following are cardinal rules of optimization: think about your caption as being similar to SEO keywords so when someone types in their keyword into Google, you can provide them an engaging post with good quality photos or videos where we can add targeted hashtags on your posts.
It's common sense to keep your hashtags relevant and not too long or short. You want them to be easy for people to understand at first glance. This is a great way of attracting new followers, customers, and leads.
We must optimize our post by making sure we have used the correct number of hashtags so that when someone searches the hashtag they will see us right away in their feed instead of scrolling endlessly without finding what they were looking for.
Create Your Own Alternative Text

Instagram alt text is a new feature in the post editor that allows us to add text for Instagram users who have visual impairments. This will allow them to know what is in the post and make it easier for them to navigate your profile.
This will also allow us to optimize our posts by adding a description of the content that may not be clear to someone who has visual impairments.
It's important when creating alt text for Instagram posts, we must use under 100 characters per sentence so it doesn't get cut off as well as using proper grammar and punctuation because this will help others understand what you are trying to say more easily.
Instagram currently creates automated alt text for us, but this new feature is a great way to optimize content for SEO too.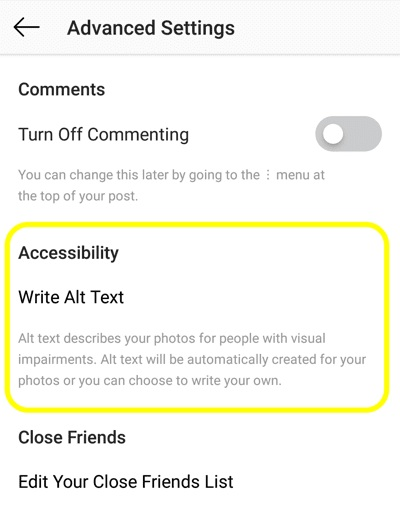 Tag Location in Your Instagram Post

This is a tag where you can specify the location of your post. I think this will be helpful for people to see what's happening in different places around them and also allow followers from that area to follow more posts with similar content.
When creating tags, make sure they are specific like using city names instead of just general words such as "coast." This will help followers find photos faster if they're searching by geographical region because it provides better filtering options.
Local users will be able to find your photos easily in their "Places" in the Search section and tap on "Near Current Location"  to see posts around them.
How does this location tag help with Instagram posts? It will be able to show up when someone searches for a post from that specific city or region and allow people living there to follow more posts about things happening around them.
Share High-Quality Images in Posts

It's clear that we need to have high-quality photos in our posts to capture the attention of others, but it is not just about your subject. The background also plays a huge role in this process.
If we are making the graphics we avy, blurry or do not have a great angle to the subject of our photo, people are going to be more inclined to swipe and keep scrolling.
It is also important that we avoid having too many filters because it's just diminishing their quality in photos. Posting these types of images on Instagram will decrease its engagement rates.
This are standard sizes for your traditional Instagram posts:
Square images: 1080px by 1080px
Landscape images: 1080px by 608px
Portrait images: 1080px by 1350px
This will give you enough space to create captivating images that are visual, but not too cluttered so your followers can engage with them easily.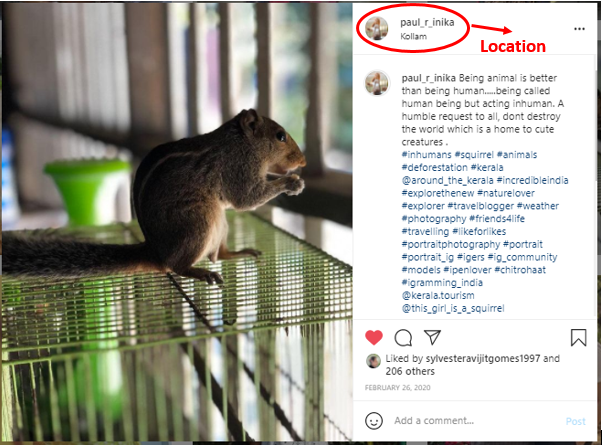 Add Videos into Your Posts
One of the best ways to engage with your followers is by posting videos. Videos are quickly becoming a dominant content type on Instagram, and research has shown that people will spend more time watching video content as opposed to scrolling through static photos in their feed.
Video posts have an average engagement rate of 12% higher than photo posts - so why not give them a chance?
Videos also allow you to show off different types of products without having to post many images or links which can be tedious for some viewers. This helps promote your brand while still keeping it interesting for others!
Carousel Posts are Trending
If you're running out of ideas for what to post on your Instagram account or want to do something different, carousel posts are a great way to show multiple images with minimal text.
Carousels allow followers the opportunity to scroll through several photos or videos without having to switch back and forth between tabs in their phone's app. It also helps extend the amount of time people spend reading your content by scrolling down as opposed to just clicking "next."
You can share up-to-date events like new arrivals, special promotions, or anything else all while creating an engaging visual experience that will keep followers coming back!
But make the carousel post images connected to one another. For example, you could showcase a recent shoot with different angles of the outfit or location and then end by showing off your favorite look from that day's photoshoot.
Best practices for carousel posts:
- Include captions to go along with each image in order to provide context for what is being shown; this will help followers know how long they'll have to scroll through content before reaching the next picture!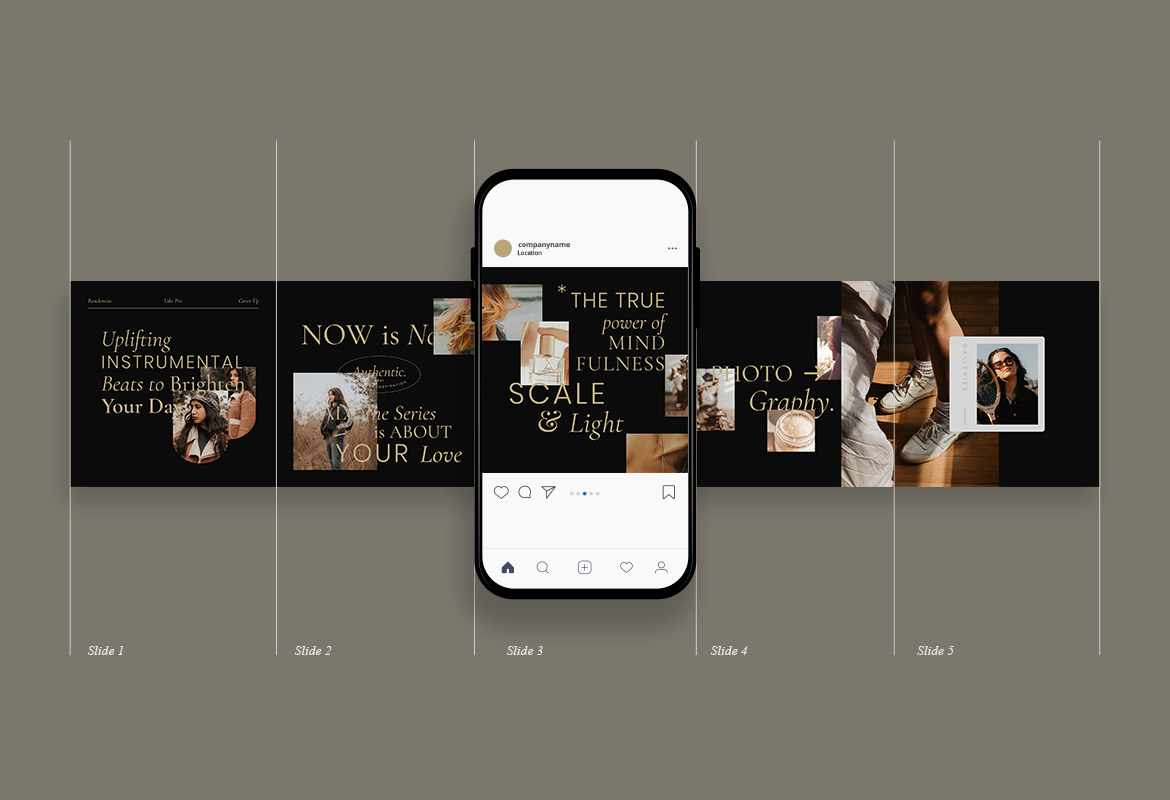 How to Optimize Your Instagram Stories for Maximum Engagement

Make Instagram Stories more engaging by including a variety of stickers, filters, and other features.
The story is not just for photos or videos anymore- it's also a place where you can share moments from your day!. Also, we can share the latest updates on their profile or business.
Use Relevant Stickers
Stickers can be used in stories to expand on the story and tell a little more about what you are talking about. For example, if I am taking a photo of my dog, I might include some stickers that say things like "I miss him so much" or "he is such a good boy!"
If there's something happening in your day where it needs an explanation (like describing how one feels) then add text with a sticker: Sad + Crying face emoji = feeling sad
Use animated stickers sparingly as they may not work for everyone but when done right they keep people engaged!
It is also possible to share other content from outside of Instagram within your story- whether it's videos or photos. You can do this
Use Polls and Quiz, Questions
Want to create an engaging quiz? Use a poll in your story. For example, if you are giving people the option of picking what they want for dessert from three different options, write "What's your favorite flavor?" and then include two emoji icons that represent two flavors (one will be selected by default) as well as one question mark icon. People can tap on those icons to change their answers at any time until they submit them.
You can also use polls or quizzes within Instagram Stories- this is not only fun but very interactive! Here is how:
* Open up your Story camera/select existing photo > select the text box with pen icon > add questions > type content for answers * Tap done when finished
Statistics say Quizzes and Polls as Instagram Story content can increase followers by up to 27%. Polls are a great way to get people to share their opinion with your audience and Quizzes allow you to offer an interactive experience.
Takeaway: People love polls! Use this tactic to help decide anything and increase engagements. If there is ever confusion over how many votes were cast, use hashtags like #polls or #results at the end so everyone knows that vote counting has ended (and make sure to do it!).
Tips for a Successful Instagram Story:

- Draw attention to important events by adding an event sticker and/or location stickers, so followers can find you on the map - Share your thoughts with text (think of it as a status update) in one-minute total maximum length – this will allow more people to read what you have to say because they don't have time when scrolling through their feed!
- Ask questions that are open-ended – these types of comments encourage engagement from other users who want to participate in the conversation. Start conversations about topics like fashion, travel, education, etc. This way people know where to comment if they're interested in chatting about that particular topic. These also make great content ideas to use as a caption!
- Tag friends and other accounts so they know what you're doing when tagging them again: It's always nice to see old photos from overtime :)  Also, make sure to see their story too!
- Keep it fresh with different filters and angles – change up what you post on Instagram so people don't get bored quickly! If it's getting repetitive, make sure your captions have something unique in them too.
We all want more engagement on our social media profiles, but in order to get it we need to optimize them. it's important to optimize your profile accordingly. Have you tried any of these optimization tips? Share which one worked best for you!
Join the newsletter to receive the latest updates in your inbox.